Conference Dinner
Conference Dinner
Caru' cu Bere Restaurant – https://www.carucubere.ro/
Whoever came to Bucharest and didn't visited Caru' cu bere may as well say that they haven't been around here at all. We're not saying that we are the center of the world and giving away Bucharest citizenships, but being around for so many years we may definetely say that we've become a true symbol of Romania's capital city.
Even though Caru' cu bere is widely known as a symbol of Bucharest, its original founders came from beyond the mountains, in Transylvania. In 1879, on the Calea Victoriei boulevard, there was a beerhouse under the name of La Carul cu Bere (at the beer wagon), ran by transylvanian native Ion Cabasanu. The origin of the name is not a hard guess, as the beer was brought to the beerhouse by horse-driven wagons.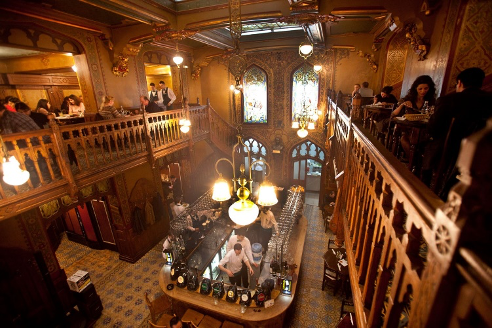 In this place, Ion and Gheorghe Mircea, the nephews of Ion Cabasanu, who also came from Transylvania, were practicing the beer brewing craftmanship, later being joined by their younger sibling, Nicolae Mircea. For some years, all the three brothers worked hard and managed to get hold on several places in the area of the Villacros Passage, also in the field of beer brewing. With a bolder attitude towards his work, Nicolae Mircea manages to see his dream come true in the year of 1899 when he starts the construction of the Caru' cu bere building, the famous restaurant in the heart of Bucharest.
More than 100 years have passed over the famous restaurant in Bucharest's old town, but this doesn't mean we didn't keep up with the times. Some things were changed, so that we won't be considered to rusty, be what we wouldn't change never and ever is the house beer, which is the exactly the same beer that the founder of Caru' cu bere brought from Germany to leave as a legacy for the generations to come.
Caru' cu bere is the soul of Bucharest During the decades good things and bad things happend to our restaurant. The worst times happened in 1948, when the newly installed communist regime took over the restaurant without any notice. The owner were told that they have a few days to hand over the restaurant to the municipality of Bucharest and things were never the same again.